Racing started at an early age for the Renninger men. With Wayne, his first experience was at Dorney Park, at the age of six. Wayne went to watch his uncle at Dorney Park who was the head mechanic on his cousins Wally Smith's #44 coupe. Wally was running in the Sportsman Division at the time.
From that night on Wayne was hooked on racing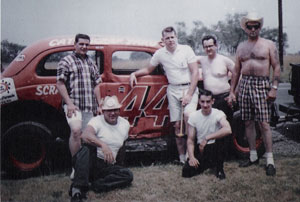 Throughout his adolescence Wayne spoke highly of racing recalling his earliest memories at Dorney Park in Allentown, PA. One memory was a rainy day in 1973 when Wayne finally got into a racecar for the very first time.
Wayne had helped out on his cousins team (Dave Miller) for a few seasons who was running the former Freddy Adams 36 Chevy Sedan (the brown 48). One night after the rain had subsided Wayne took the car out onto the track for a few laps to help dry the track. "What a rush" being strapped in and seeing the fans so close at the bull ring, Wayne said feeling like Star.
Wayne's first night out was historic too as the throttle got jammed open, resulting in flipped the car upside down. After the team flipped the car right side up Wayne fired the car back up and tried to drive back into the lineup. The official had a different plan for Wayne as they directed him back to the pits shouting "you're not going anywhere, you're done for the night."
The next 5 years turned out to be the best and most memorable of Wayne's career. Heat wins, top 10 finishes, lots of broken parts, always 2nd to the best, but unfortunately no feature wins.
Years later, Wayne decided to move into dirt track racing. This move called for the replacement of his out classed sedan that had been competitive at Dorney.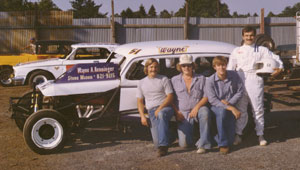 Wayne bought the former champion's, Don Loder, car from Art Keiser. This brought out the first taste of methanol and drag tires. Wayne moved on to purchase the former 606 from Francis Hardener. From there his racing career continued with trips to Nazareth, Susquehanna, Big Diamond, Bridgeport, and Reading Small Blocks.
As Wayne moved into the Krits Pinto he reunited with Wally's (#44) son Boop going to Penn National. Dave Kelly drove this car with the small blocks at Reading. In 1986 Wayne bought his cousins Dave's pinto, a former Thomas bros modified built for Pocono Raceway.
From 1973 thru 1986 Wayne primarily raced on dirt. Wayne owned his own cars the whole time, racing some of the last races ever at Dorney Park.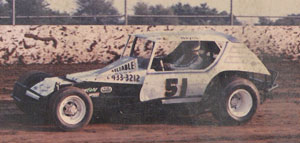 In 1981 Wayne purchase a quarter midget for his son Erik at the age of 5 to race at the Lehigh Valley Quarter Midget club. Erik enjoyed a two year run with the club capturing a handful of feature wins. While racing both Wayne's modified and Erik's quarter midget new sports like baseball and football began to take Erik's interest. Costing a lot less then racing, the sports had taken over, for now.
At a time when life priorities had shifted, racing would come to an end for Erik and Wayne.
As racing was over….Dorney, Mahoning, Evergreen, Nazareth, Flemington, Reading, all gone as Wayne had know them as time passed.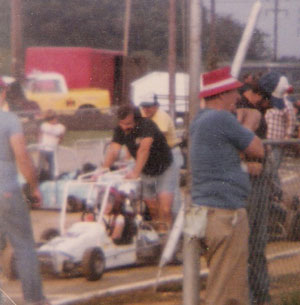 It would be 17 years before Wayne would get into a racecar again. In 1999 Wayne was entering into his 50's and he purchased a 1997 Bicknell from Mike Kelly. This brought Wayne's racing passion back to life; however, things had changed radically over the time spent away from racing. Starting in the back, not qualifying, crashing took a toll on his spirit.
Determined not to let go of racing Wayne said "my sons will drive my car".
Chad (Waynes youngest son) was the first to get in the car at Grandview, feeling what strapping into a dirt modified was all about. Chad was able to get around the track very well and kept it together. During one of the heat races the leaders were dicing by and managed to send Chad into the infield and closed out his first night.
Next it would be Erik's turn to strap in. Erik turned to his younger brother Chad for advice on getting through the first day. Chad was essential for getting Erik mentally prepared for the upcoming day. Near the end of the racing season in 2000 Erik would finally get his first experience in the dirt modified. Erik jumped at the chance to buckle up and see what racing was all about at the modified level. Erik and Wayne went to Susquehanna for their first run together as grown men.
The first day brought many lessons, starting the car, practicing getting the car into 2nd gear, getting a feel for the steering and braking.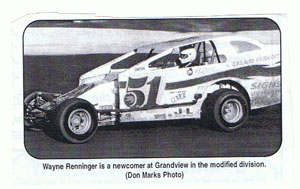 Erik's first green flag turned out to be one of the biggest rushes of his life, surpassing all other moments in sports (wrestling and rugby) played over the years. After, his first heat Erik had returned to the pits to report that the steering wheel may have been a little close to the dashboard, and his bloody knuckles supported this. Erik qualified for the feature.
In the feature Wayne told Erik to just take the green and we would work together later to get the car better set up for you. Erik took the green and kept saying "one more lap" "one more lap" in his head. Unfortunately, Erik only completed three laps in the feature when the engine quit, thus bringing the night to an early close.
A number of years would pass until the Renninger men got their second shot. Erik was working in NYC and Wayne was looking for ways to get the engine back together on a very low budget. Erik and Wayne tried to get a new engine for their re-introduction in to the racing arena, and were successful near the end of the 2007 racing season.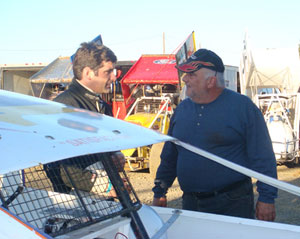 Erik, was thrown into the fire early by racing a number of heavy competitors in the modified division at Grandview and Big Diamond. With an older (1997) car and little knowledge of the technology of racing frustration set in for the team.
Fortunately as history repeats itself Erik did get bit by the "Bug" just as his father had.
One defining moment was at an open competition night at Grandview Speedway in 2007. Erik was running in the consolation race and the leaders were approaching fast on his tail. Erik raced as close to the infield as possible when a leading car launched itself off Erik's back wheel and into the wall.
Erik was instructed by the official to turn off his car as it was a red flag. As Erik glumly turned off his car, he was fully introduced to a booing crowd and an official's verbal lecture.
On top of hearing his name being yelled out loud with comments about getting off the track and being called a "bum" (two of the cleanest comments), Erik's sprits about continuing were defiantly in question.
This was not easy for Erik to shake off and it showed on the restart as Erik was caught by the leaders in no time. Erik pulled into the pits to see an offical running over to his car, assuing the worst was yet to happen. Thankfully an official came charging over to the car who was in the turn of the accident and said "hey kid, don't beat yourself up it wasn't't your fault, you were as close to the rail as possible". A much needed simple gesture secured Erik's racing career.
Wayne wasted no time and made Erik get back in the car to sit on the track as the provisional in the feature. From this day on Renninger Racing became bigger, the Renninger's became students of the sport taking on every piece of information and experience as learning opportunities to improve, The Renninger men declared 2008 as their official Rookie year.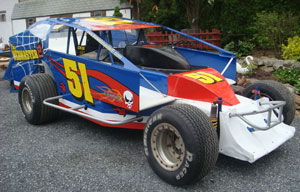 The Renninger Racing Team bought a 2005 Bicknell in an attempt to find the right track to run on. This brought the team to the Rookie class at Bridgeport Speedway in NJ, where they could start from the beginning to learn the fundamentals of the new technology of racing. In this time Erik moved to central Jersey where he hopes to build his future racing team with the addition of his new 4 car garage and close proximity to racetracks such as Bridgeport, New Egypt, Big Diamond and Yes Grandview…(I will be back he says)
The torch has been passed as Wayne would say and he is looking forward to wrenching Erik to an exciting successful career.
Eriks first year came with a feature win. Most of the season was spent on getting familier with the car and componets, but racing weekly proved to be a major benifit to what was learned throughout the year.
The path is long and unknown but as Randy Kane would say "Renninger knows where he's headed".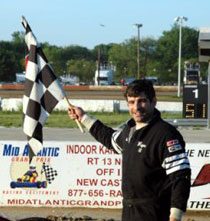 In 2009 Erik would contiune at Bridgeport speedway in the Crate 1 division, still learning Eriks best finish of the year was 6th place in a feature.
As time when on during the year Erik began to make a number of contacts within racing and started expanding his knowledge and equipment. With the team now able to make ajustments to the car to stay with changing track conditions Erik became more competitive during the year and more comfortable in the car.
2010 would be a transitional year with moving to New Egypt Speedway, it was time to give a new track a shot.
Starting out in the Crate 1 division at New Egypt never really got off the ground. The team did finish well in the heats and got a top 10 in a feature but the crate engine would finally give and lead to the 358 Sportsman engine to finish out the season, the engine the team had originally started with 5 years ago.
Under powered Erik was not able to qualify, but got plenty of seat time with the sportsman division and had an opportunity to upgrade equipment during the rest of the season.
In the off season Renninger Racing teamed up with Atlantic Crankshaft to build a sportsman engine and continued to upgrade equipment. In 2011 the team started in the Sportsman division at New Egypt speedway and ran some additional shows at Big Diamond, Grandview, and Bridgeport.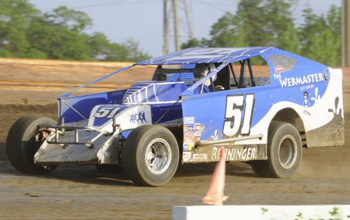 Out of the Gates in 2011there was a big change in power, the engine was crisp and mean. The first race of the season Erik was passing cars and headed to the top 10 in the feature when an issue with the steering happened.
Erik ended up heading straight into the wall in turn 1 with no steering and tore up the front end on day one. The team ended up going to the back up car for the second race and had to take a week off.
At this time the team looked for more crew help and teamed up with Tom and Carmella Ditmars who were instrumental in getting the back up car ready and on the track.
Erik had a busy schedule in 2011 with the birth of his son Jake and could not have made the full season without the help of Tom and Carmella.
The rest of the season had a number of ups and downs, qualifying through the heats with an 11th place in the feature being the best results at New Egypt.
This being the 4th year and first year in the sportsman class was a trying time. The team was good enough to qualify and good enough to get into trouble, and trouble took some toll on the equipment in 2011.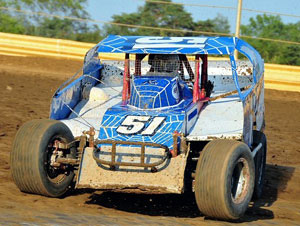 The team did well in the consolations with a couple of 2nd place finishes, but seemed to be a magnet for spining cars and spining ourselves in the features.
Throughout the season the team continually imoproved that car setup, sometimes taking a few steps back to go a few forward. Every race they continue to learn something new and most of the work now needed to be focused on Eriks driving.
Near the end of the year the team ran a Big Block show at Bridgeport and pulled off a 2nd in the Heat with no laps of practice on their 1/4 mile and also attened a Thunder on the HIll show at grandview with the car dialed in.
The finishes did not fully show the progress made over the year but confidence is high for 2012. There were many highlight moments during the year but also as many not so great moments.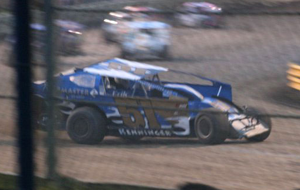 In January of 2012 Grandview Speedway announced they will be running the sportsman division, opening the door to get back to Grandview.
From the first time the team pulled into the gates at Grandview it was know this was going to be a different kind of year.
Erik "felt right at home" from day one at NASCARs Grandview Speedway in Bechtelsville, PA.
At this point Im changing over to writing the history section from my point of view directly.
After finishing the 2011 season at Grandview and hitting the wall in turn 2 on the first lap created a very eager winter.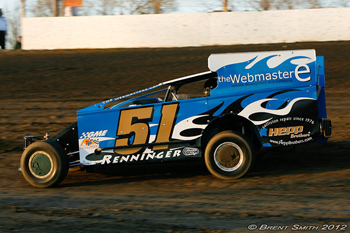 I had, for the first time, flat footed the Sportsman car all the way around the track in the warm ups that night and got a little aggressive on the start of the feature but I knew I had it dialed in.
When I found out Grandview decided to run the Sportsman for their 50th anniversary I immediately thought things were going to line up this year.
For the first time I felt like we were in a great racing environment, there was just a feeling about the place that gave you some sort of a smirk, but you continue on like its no big deal. We even went to the practice session this year and tested out a number of things.
I also installed in car camera that tuned out to be a big help. I finished 10th in the fist race and parked the car on the trailer pretty much untouched, and that was my only goal for that night.
For the next couple of races we would tune the car in for the heats and feature. I wanted to make one change per week and take the season if needed to find out everything I needed to about Grandview and the changed we needed to make on the car.
There are a lot of people who physically help me and another set who help me mentally. This year was set with the mentality of finishing races and bringing home the car to work on the car rather than getting into a wreck and having to fix the car. I feel I accomplished that goal with only 2 DNFs for the year. Once was a broken rotor, and the second was a drag link that had we known to have a pry bar and bend it back I could have finished that race too. In the end we did miss 6 races due to engine issues.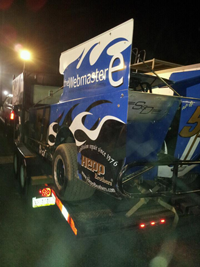 The issues with the engine were a blessing in disguise as prior to blowing a head gasket I didn't feel to comfortable taking the bolts off the valve covers. Well crash course in engine building from a network of people including my engine builder, pit crew, parts guy, other racers, old racers, retired racers, gear heads, YouTube, and some message boards.
In the end it took us 3 weeks to get the heads back together with the right parts. I was sceptical about the work but it sure was nice to go out and win my first heat the fist week back and then the feature a few weeks later after all the work we did to the engine.
The night I won was a great accomplishment that took me 5 years to do. I went out in the heat and won but still knew the car wasn't 100% right. Prior to the feature that night I was deciding on what tires to use and at the very last second we made the call and when the green dropped I knew I had something. The car just went forward and I had control of it, I switched lanes about 10 laps in and pretty much checked out from that point on. It was a night to remember but something I will have to do again as my Dad happened to be on a cruise that night and wasn't there.
It was a major relief to get a win and I was very surprised by the amount of congratulations I received not only that night but the week after with numerous phone calls from pretty much everyone Ive ever come in contact with in racing. It felt awesome, and people seem genuinely happy for me. Most of all it was validation that I made the right move this year.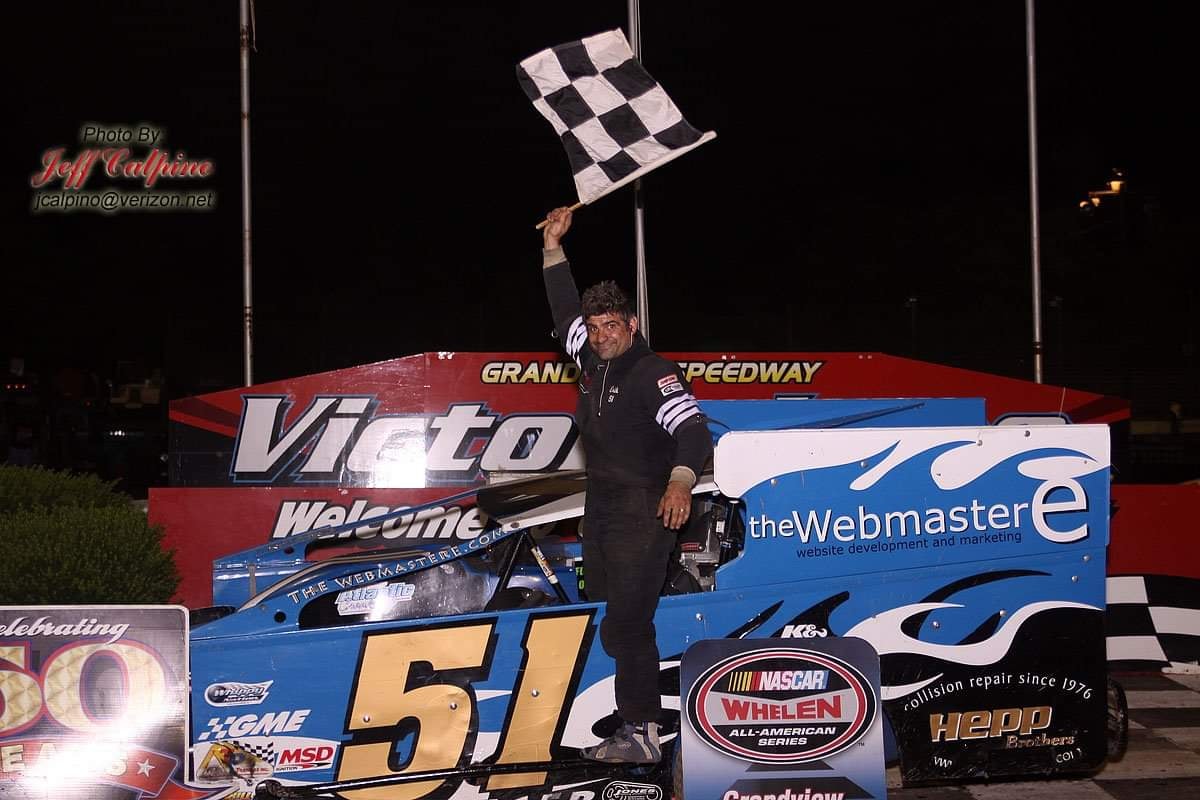 There were a number of weeks I went 2 steps backward and then added one more move backwards.I was "hellbent" on finding a setup for the heats that I could be fast and also give me the ability to move around. It took me all year to find it, and as I did win a number of heats I was never satisfied with it.
It wasn't till my last race of the season where I put all of the little tweaks into one setup and I won the heat by a straightaway and unfortunately dropped a valve half way though the race or I know I would have pulled even more. In all I finished 12th in points won 3 heat races and learned a ton. I'm now rebuilding for next year at Grandview Speedway.

Onto 2013 and Ill have to say I didn't write this section till 2014, thinking back I immediately remember a few weeks into the season when water started pouring out of one of the cylinders while I was doing a proactive compression check, basically checking out the health of the engine 4 weeks into the season.
Why did it happen? I'm still not sure, maybe some leftover damage from the damage we did at the end of the 2012 season when a vlave broke and tore up a cylinder and part of the head.
Well I resorted to any method that could work and I used a block sealer and no joke it worked. I was impressed myself, but that would not be the end of the engine issues, we would have to send it back to the builder to get a few things worked out when we were about 8 races into the season.
The engine was never quite the same, and I was constantly complaining about it, meanwhile pulling off heat wins, 5 of them, during the season. My best finish was a 4th place finish, I recall being very frustrated because I would start on the pole for the heat and the feature and it seemed as if I was always trying to hang on to a position.
By the end of the season I had almost 0 compression in one cylinder, basically running on 7 cylinders. I had no choice but to drive as mistake free as possible and maximize the setup as much as possible. There was no particular highlight of the year that I remember, and I now had to go back to my facebook page to remember about all the issues I had in 2013. Broken distributors, 3 of them, the engine issues, being put into the wall resulting in a wreck chassis and having to rebuild the entire car because someone put me in the wall.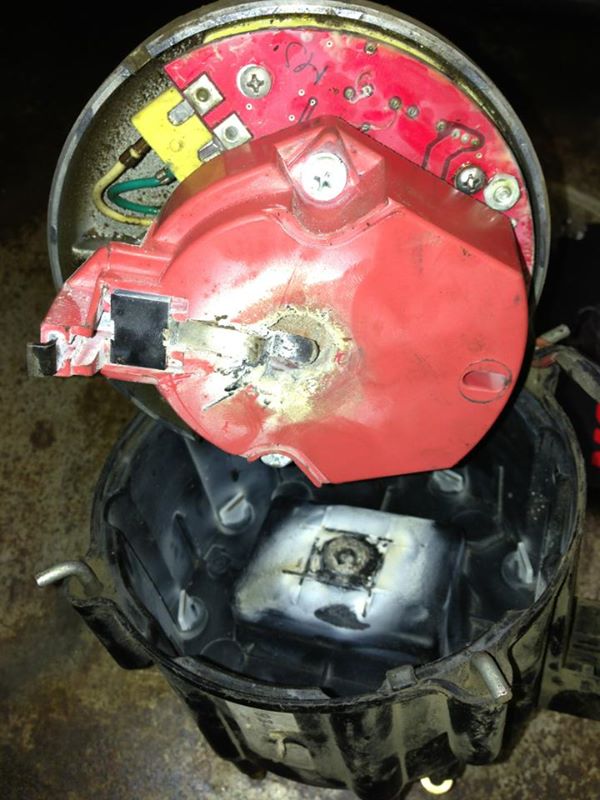 I've seem to conveniently forget those issues and remember having a season of losing self confidence and going out to search for it and ending up in all the wrong places.
In the end I would finish up 19th in points with a season that I was so ready to get behind me that it took me till the end of 2014 to write about it.
The 2014 offseason was another handful, I know I wanted to upgrade my equipment and build a solid engine, actually two of them. I started very early in trying to get everything lined up for 2014 and after another set of twists and turns and ending up in all the wrong places I found my self tightening the final bolts of what I had managed to get together about ten minutes before the first race of the 2014 racing season.
All the plans I had worked out never happened, the engine builder, the chassis, a few other things, all out the window.
But none the less by the 2nd race of the season, the first one I actually had the car setup for, I was challenging for the lead in the first heat race and for the first time inside the car I felt acomplished. I seriosly got a bit choked up in the car as I almost passed the leader on the final lap. I knew I had put something togther, and I knew it was going to be a good year.
Sadly, well very sadly it took me most of the year to get back to that point. I had many highlights of the season, basically finishishing the entire season with only missing about 10 laps. The key to a championship is to finish races something I accomplished very well.
Something I failed to accomplish very well this season was listening to myself. A trait I did finally develop near the end of the season. In the mean time I had a hell of a season trying to qualify and finish in the top ten. This fact becasue of how well I started off the season, sitting in 5th place in points for a few weeks had me starting further back in the heat races and providing quite a challenge. This brings about a a significant stat that puts some some things into perspective for the season. In this season alone I have passed more cars than I have passed in all previous years combind.
2015 – This was the season I became the Racecar driver I always wanted to be. It started with the new layout of the car, tee shirts, parades, showing up in a video game, the BULL and my new racing suit but that was only looking the part, the real start was mental and I knew it was time.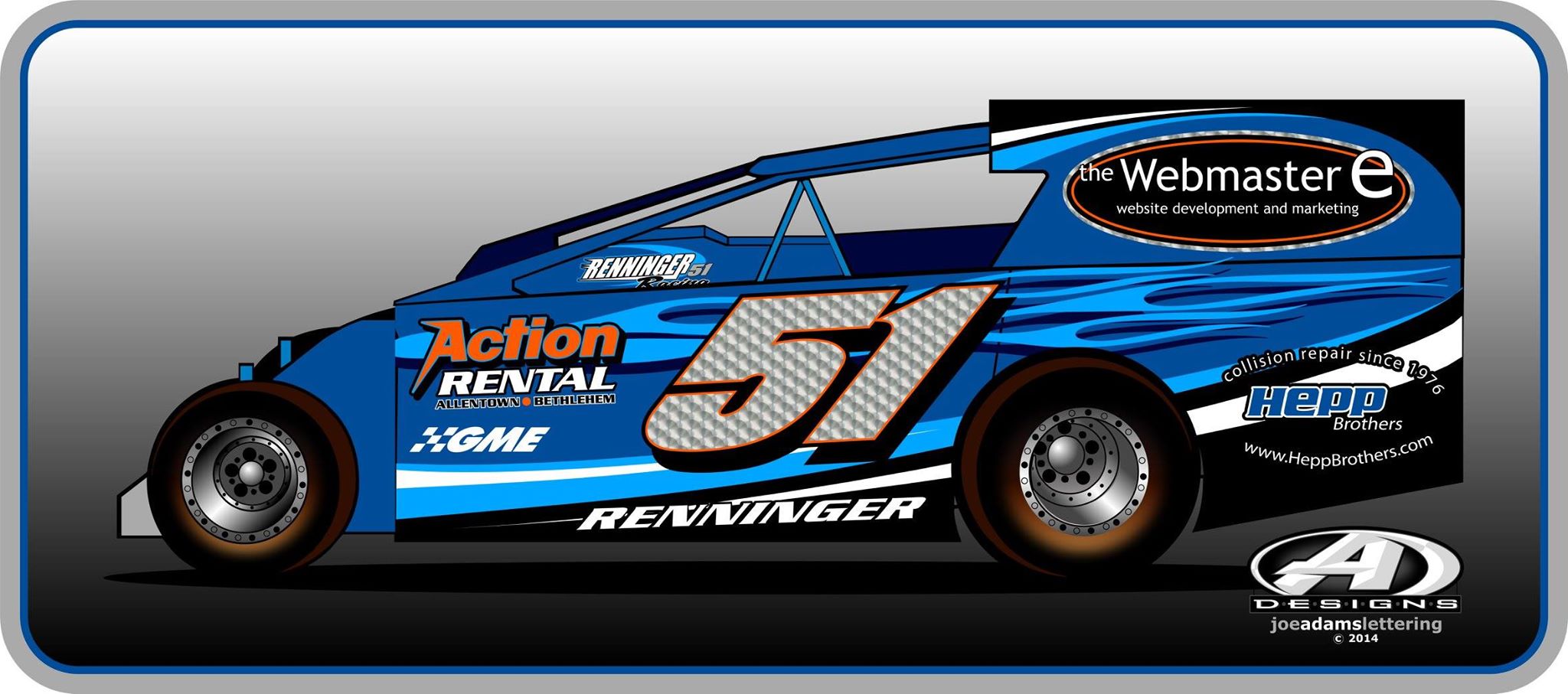 At the end of the 2014 season my Dad gave me a letter:

If you think you are beaten, you are;

If you think you dare not, you don't.
If you'd like to win, but you think you can't,
It is almost a cinch that you won't.
If you think you'll lose, you're lost;
For out of the world we find
Success begins with a fellow's will
It's all in the state of mind.
If you think you're outclassed, you are;
You've got to think high to rise.
You've got to be sure of yourself before
You can ever win the prize.
Life's battles don't always go
To the stronger or faster man;
But sooner or later the man who wins
Is the one who thinks he can!
I hung that up in my garage, moved it around a few time, had it in my tool box, on the wall, various places and ran it through my head many times. I think each time I started to erase things in my head like, they have more money, they have more years, they have, they have, and it became I have!
I had what I needed, and knew what I needed to do, and I was doing what I wanted to do. I had been down all the roads and tried all the tricks. I had broken, fixed, installed, and purchased every single part and put them all together. I knew every calculation, the right way, the wrong way, and the trick way, there was no more learning or planning there was only executing.
The first article of the season "Erik Renninger" programmed to take that next step, fitting in many ways.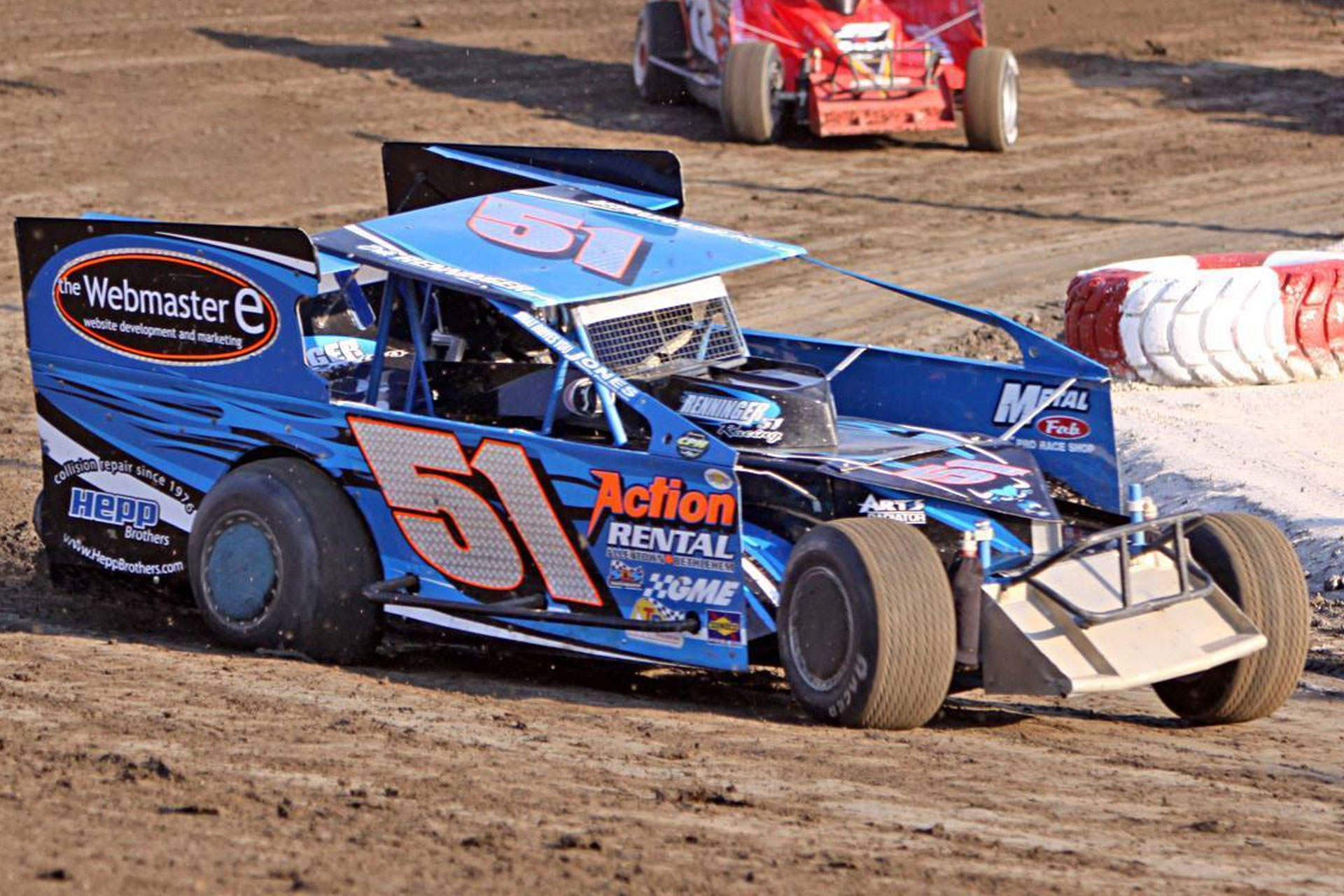 I purchase an updated chassis a 2013 Bicknell, one that I had seen being built by Mark Blackwell at Metal Fab and I got it from Rocco Infante and I had the piece of the puzzle I wanted and from where I wanted it. I build that car piece by piece with the only intention of winning a race at Grandview Speedway, again, but this time I would feel that I would earn it. This time I only listened to one person, finally.
The season started out where I left off but with even more confidence, I was like clockwork with my finishes 5th then 13th then 3rd then 16th then 7th then 22nd, and so on. I was searching, learning, lurking, every other week was a step forward in one way.
About 3 quarters of the season had gone by and I began to put it all together, all the stuff that I liked, that worked, that had been proven. I had felt like someone at the track, I saw for the first time in my life someone other than my family wearing one of my tee shirts, it was a monumental moment for me.
I was busy after the races, people were stopping by, asking for tee shirts, taking photos, asking for autographs (way more than usual). I started to notice that my car was loaded up and ready before I even got my suit off some nights from talking to people so much after the races.
I could talk about the play by play this season but there were a few defining moments that I will look back on that I will talk about. The first I have just written about, the new aura of things, the next two are night and day.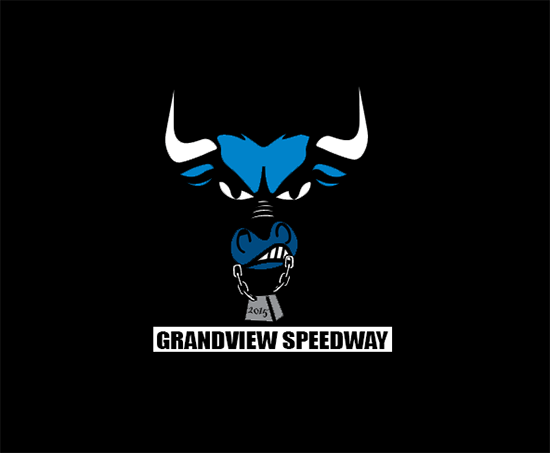 I may have written in the past I run a lot during the week, and I basically run about 3 to 5 miles a few times a week and during that time I go through Saturdays in my head, from unloading to warm ups, heat races, features, victory speeches (I've had about 200 in my head) and everything else.
There are moments I think about coming down to the checkered flag with two to go, usually about this time I realize I'm sprinting, in any case, it was my almost win and the moment I think about happened to me. It was near the end of the season after a big race for the modifieds and the track had blackened off, from the drop of the green I knew it was my night.
The car was a rocket and I was being very patient, I had picked off about 8 or 9 cars coming down to about 10 to go and I began to work on the leader. I had the car, I had the opening, and looking back maybe I shouldn't have lifted when we both cut down entering turn 3, I wonder often how that would have turned out, but I did lift rather than punting, running over, or bumping the leader out of the way.
I lost about 8 or 9 car lengths to the leader and well, here is the changeover because whatever happened next I had gotten up to a car length or two away in a lap and a half, and right there and then I became what I was looking for, because for the first time I wheeled that fuck!ng bitch…now that bitch has some sense of humor because I saw the two to go and decided to try to go on the outside to get a monster run and pass on the last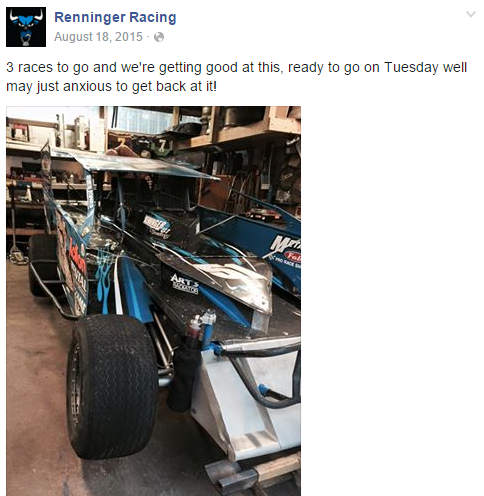 lap, and stepped on it…spinning out in turn 3. Ah maybe there was a bump, maybe I shouldn't have went up top, maybe I got to cocky, whatever I felt it, good, bad and ugly.

What nobody will ever know and I'm not suppose to say is that the same man who many years ago stuck his head in my car (check out the history section 2007) who lectured me over a booing crowd had come up to me the next week and congratulated me on the run, and may have revealed he may have been pulling for me that night, another monumental moment.



Three more races would go by, I was up on the wheel and having a great time, I knew things were clicking I was doing thing at will, just some luck here and there. We cranked up the motor a bit tweaked a few more things and I was just getting ready, thinking about the post season, going to all the other tracks, back to NES, and Bridgeport, Big Diamond, showing up and competing, I was peaking.
The last race of the season I had to start in the back of the pack for the feature as I was stuffed in the wall in the heat race and broke the front end pretty bad but that wasn't stopping me, we had fixed what we needed to and were ready.
Again from the drop of the green from 19th it was on, I had never felt a car work so good, up top was fast and I was on the move. I felt ten feet high off the ground things slowed down it felt easy, it felt fast, and in a blink on an eye it was gone.
I had finally flipped the dam thing and I think it was more like 20 feet. There isn't much to say other then things happen when you get 4 or 5 guys coming out of turn and nobody gives, its what makes racing racing and why I love it, but this time I took the ride.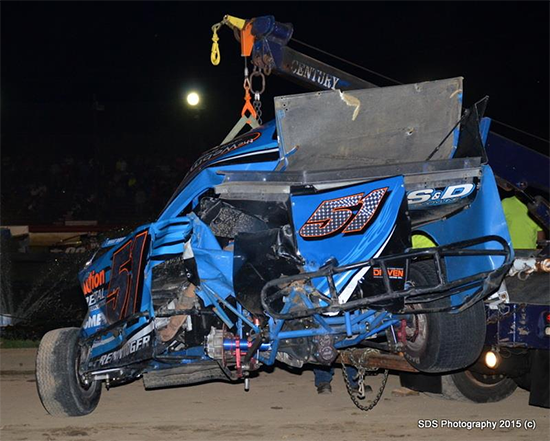 I would like to personally thank everyone who helped me this night...I only watched this video 2 times, the day after and today. I am still grateful that there was someone attending to me who clearly has been in a racecar before, in addition to the medical staff. I can not express the level of gratitude I have for everyone attending to me, including the woman who I still can hear in my head today. I post this in an effort to possibly help anyone and everyone down the road...the only take back I have for this event is...NO i should not have lifted....but a slight tap of the brake or not looking to far ahead may have resulted in a better outcome...but in my case an in my head...these little moments of choice...separate....everyone.....and I have not regrets...On the safety side....I am very glad that I waited 10 years to flip the car...because...I had the money to spend on safety...including the hans....the Kevlar fuel cell, the full containment seat...the design 500 fire suit....the working fire extinguisher... BECAUSE....one less dime spent....and the outcome could have been far worse....the fuel cell itself....an extra $400.00 ATL cell.....one that I would have never spent money one....made its importance know....when my 20lb piece of lead got smashed into the cell.....no leak...no fire.....safety Im glad I had..For the rest I am again thankful for the treatment I received from both the track personnel and NASCAR....I hope this video can serve someone in the future....thankful once again...Erik

The next few months would be difficult in many ways, I can only say I am a passionate race car driver, and that will never change. I found my passion and it hard to tame, I have some unfinished business and that is a promise, I don't know how, who, why or when, but till then...
Its now 2018
I recently put the first parts on the "new" car a week or two ago with Steve who came over to the garage at my new house. I't had been since the flip, where he drove my truck, trailer, and wrecked car home that night that he had been in my garage. We washed the dirt off parts from the night I flipped back in 2015, I thought to myself seriously I lett this Sh!t lay around this long. The engine is currently at the builder, sealed and almost ready to be picked up, and there is really no plan in place.
That garage has less than it once had, I sold as much as I could before I moved. There is still to much junk around, I want to get organized.
Be that as it may, this will continue.
Since 2015 I have lost 50lbs, found a new hobby in photography and spent quality time with my family.
The fire still burns...
I almost got in a fight one day because a random person had heard my story and said maybe GOD flipped your car.
3 months after my wreck I was still pissing vinegar.
Since then I have realigned a few things.
When I flipped my car I was consumed, I was passionate, and I was blind.
I had put Racing in the top 3 slots of life... Racing, Racing, Racing, Family, Health, Work, Life.
3 Years Later
How do I feel?
Pretty Good.
But unless you have raced, or been a part of racing, no words could persuade your feeling toward it one way or another.
I've said it before its, my health, my family, my life, and racing falls somewhere behind those.
Now that's out of the way.
On my running tracker, its says I've run 54 times this year for 203 miles...
Id tell you how many of those miles I think about Racing....
Again the path from here is unknown, but I continue to walk, and one day soon I will have a checkered flag in my hand and probally some tears in my eyes....and I will be ok.
2015-2020...updates in progress